Tuesday, August 4th, 2009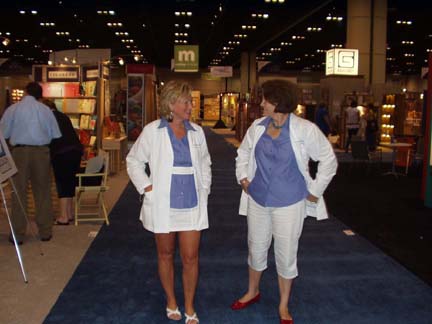 Kathy & Barb–The Craft Practitioners from www.CraftForHealth.com at CHA Super Craft Show 2009
The Craft Practitioners from Craft For Health (that's me and Barb Dehn) attended the first ever Craft Super Show in Orlando open to the public this past weekend!  We came armed with our lab coats and craft therapy anecdotes and gave a lot of people a good dose of crafting!
AND can I just say WOW, double WOW, nah—-Triple WOW!  The first ever Crafts Super Show in Orlando hosted by CHA –The Craft and Hobby Association— was outstanding.  People poured in the doors at 10 a.m on Friday and it's estimated that nearly 5000 attendees showed up on the first day with pre-registration.  It was so inspiring seeing so many crafters come together with there friends, children and hubby's and crafting themselves silly!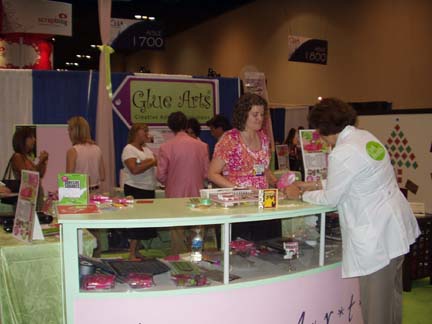 Nurse Barb's first crafty Make it Take—She's finally coming out of the craft closet!
Barb and I had so much fun and made so many new crafty friends.  It's so empowering how crafting really brings people together.  We met knitters, painters, and so many other talented people.  We even bumped into Carol Duval, former HGTV super star, the Crafty Chica, The Impatient Beader, Terri O–CHA spokesperson, and Donna Dewberry!  Words can't explain the fun we had last all last week.
And prior to the event, The Craft Practitioners were invited to get crafty with 4000 kids from Orange County.  (see more at www.CraftForHealth.com )  Special thanks to Darice, Glue Arts, Fibre Craft and I Love to Create for their product donations and helping all these kids!

It was a long week—– but sooooo much fun!  If you're wild about crafting, please write and tell me about it!
Best,
Kathy P.