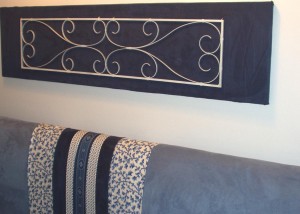 Here's a really easy way to update your headboard. 
Step 1.  Measure headboard and add at least 4 inches on 3 sides.
Step 2. Cut and place quilt batting to front, top and sides then wrap excess to the back and staple to back of headboard.
Step 3.  Repeat step 2 using fabric.  I used ultra-suede I bought on sale.
Step 4.  Create a central focal point to your headboard using scrap fabrics.  You will need to turn under the outside edges of each piece of fabric and either sew or iron over.
Step 5.  Once you have all the central fabics aligned, place on front of headboard and staple edges to the back.
Step 6.  To add height to a short headboard, I used an artist canvas and covered it with a darker shade of blue ultra-suede then hand stitched metal fretwork to it.
Let me know what you think!
Stay inspired!