Design My Adirondack blog hop is LIVE!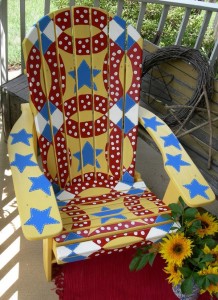 Today's post can be seen at Pat Sloan's blog
Pat usually paints with fabrics making beautiful quilts for her books, etc—but this time she "painted" a quilt pattern much like a quilt block on a barn for her adirondack! Plus she shared the whole process of how she acheived her design! Way to go Pat! Now all we need is a cowboy to go with that chair! Yeehaw!
P.S. Please be sure to visit the hop each Tuesday! You can check the schedule on the previous post.