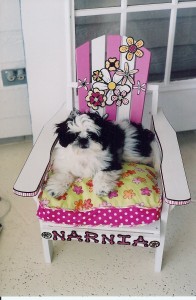 This week begins the 4th week of the Design My Adirondack chair! Wow– only one more week to go–why does time fly by so fast? Anyway, when little Miss Narnia came into our lives about 5 years ago, I decided to design a mini adirondack just for her. You know sorta like a mini throne for the puppy princess!
Little did I know that just a few years later–I'd be promoting my own Design Your Adirondack blog hop along with my Kathy Peterson Inspired Outdoor Lifestyles furniture collection and my favorite little model would be nesting in her own chair!
Check out the details! I used little Woodsie craft pieces to create various flower shapes, sewed a comfy and cut cushion and added a lot of color of course!

Tomorrow's featured Blogger is Kathy Cano-Murillo AKA The Crafty Chica–She's the glitter queen so look out for a sparkly or not adirondack reveal tomorrow! Check back again in 24 hours for all the fun details and other fabulous designer who are—-drum roll please—-Designing My Adirondack!