Monday, April 2nd, 2012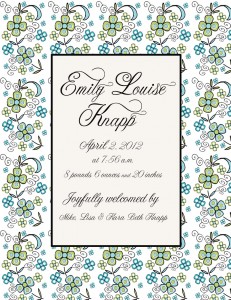 It's a girl just born a few hours ago!   Our 5th grandchild!   This little announcement gave me instant gratification!  Anyone can go out and purchase a gift for a newborn however I opted to personalize my gift with a custom birth announcement that Emily can hang on her bedroom wall!
I used the fabulous Deutica  Mandolyn font styles to create the message and created the boarder from some of my original artwork!  I think my Daughter-in-Law will be pleased!
Stay inspired!   www.KathyPeterson.com