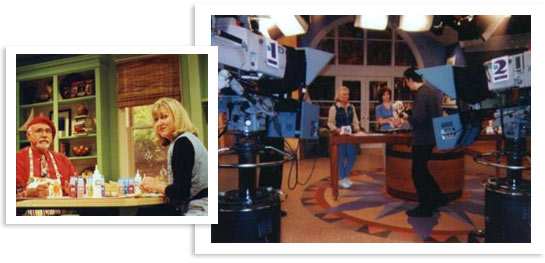 TV Celebrities
Clients & Associates
Editorial
Chris McWatt
TV Host of Home Matters
Discovery Channel and Host of Weekend Warrior HGTV
"Kathy Peterson's outdoor decorating book (Kathy Peterson's Great Outdoor Decorating Makeovers) is a great source of information and inspiration... Kathy's got style and she makes style! Dammit, she's just a great lady."
Frank Bielec
TV Host Trading Spaces
"Much love to one of my favorite people. You are an inspiration to me."
Lillian LaSalle
Oscar/Spirit Award Nominee
Producer of Motorcycle Diaries
"There was not one person who saw me in my black dress and the wire flower that did not comment on it! I can say that the flower Kathy designed made the outfit and more importantly---made me feel beautiful. I was feeling really insecure about showing up to a daytime SPIRIT Award event in all black, so it was exactly what I needed. Thank you Kathy! I look forward to contacting you again if we do need your services. In the meantime, continued success with the gorgeous designs."
Cindy Picolli
TV Host of Decorating with Style
HGTV
"There's just one word to describe Kathy Peterson's outdoor decorating transformations: "Wow!" ...The most amazing thing is that her makeovers can be done within a budget that anyone can afford."
Susan Powell
TV Host of Home Matters
Discovery Channel
"Along with Kathy Peterson's creative inspiration, she takes $250 and makes most any porch or patio look like a million! Doing it yourself with Kathy's design and decorating ideas is priceless. Good job, Kathy!"

Sean O'Brien
VP of Artistic Wire, LTD
"… signing Kathy Peterson, a crafty celebrity who's written a half dozen books and hosts television shows, has largely gotten the company from a $10,000 to $1,000,000 annually. It's something I never would have been able to do without Kathy." Source: GO Magazine Air Tran Airlines October 20, 2005
Lucille Grippo
Waverly Fabrics
"Our fabric looks wonderful and your book (SEW SIMPLE SQUARES) is easy to read, instructional and a great guide! Looking forward to working with you on other fun projects!"
Richard Hank
past VP Marketing
Carolina Manufacturing
"Cannot begin to tell you how much we appreciated your time and talent and enthusiasm at the Hobby Industry Trade show (HIA)."
John P. Beyer
past Risk Manager
FPL
"Working from a brief outline, with very little input from our department, Kathy Peterson coordinated information to produce a product that our department is extremely proud of. Handling the assignment in an extremely professional manner, Ms. Peterson provided exactly what we were hopeful for to market our insurance programs in this volatile, turbulent time for insurance markets."

Back to top
Karen Ancona
Editor
CNA
" You're certainly a trendsetter in this industry! We all look forward to your next video, TV show, and designs. Thanks for contributing so much to the industry."
Jennifer Rogers Kramer
Editor
Expression Magazine
"Thank you for your beautiful 'knitted wire purses' with us. This was such a fun project and has been very popular with our readers. I look forward to working with you on future projects."
Andy Ashely
Editorial Director
Annies Attic
The hard work and talent you put into your designs contribute to the success of our publications and our company!